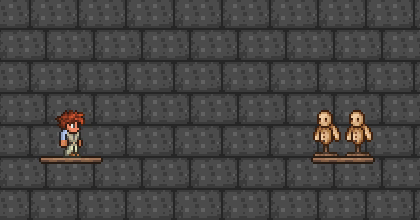 The Chlorophyte Staff is a Hardmode magic weapon that fires a volley of supercharged spore pods, which explode on contact into a deadly spore cloud that pierces, damages, and poisons enemies.
Its best Modifier is Mythical.
Crafting
[
]
Recipe
[
]
Notes
[
]
Each volley of pods consists of 5 pods, effectively multiplying the total damage by up to 5× the tooltip damage.
The pods travel in a straight line, but are fired at random angles in a tight frontal cone. This makes the staff function effectively as a shotgun, being equally proficient at close range or against groups of enemies due to the poison cloud explosions.
The pods themselves do not pierce enemies, but the resulting poison clouds do pierce.
History
[
]
Weapons (List):


Melee weapons •

Ranged weapons •
Magic weapons  •
Summon weapons •
Thrown weapons •
Radiant weapons •

Symphonic weapons •

True Damage weapons