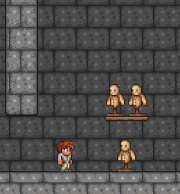 Chum are consumable Hardmode throwing weapons that can autofire. They are sold by the Diverman after defeating the Wall of Flesh. When the projectiles hit a target, they will summon a shark that will rise from below and deal constant damage to the target, and other enemies that are grouped close by.
Tips
[
]
These weapons are highly recommended as they have high single-target damage and are easy to acquire, being available as soon as the player enters Hardmode.
If enemies are grouped closely to each other, they will all be damaged by the shark, making it useful against segmented enemies such as The Destroyer.
History
[
]
1.6.0.0:

Decreased damage from 34 to 26 and shark hit rate.
Increased use time from 18 to 20 and velocity from 8 to 12.
Sprite updated.

1.2.5.8: Now has knockback.
1.2.4.0: Introduced.
Weapons (List):


Melee weapons •

Ranged weapons •
Magic weapons  •
Summon weapons •
Thrown weapons •
Radiant weapons •

Symphonic weapons •

True Damage weapons