Drenched Dirk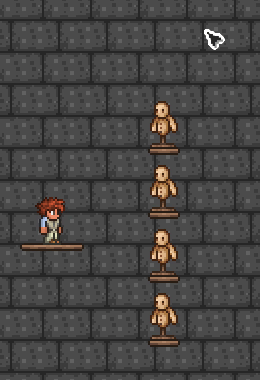 The Drenched Dirk is a craftable melee weapon. It is unique in that it appears to be a sword, but instead of having a typical swinging or stabbing motion, it possesses a more ranged and somewhat inaccurate stabbing motion that strikes rapidly and randomly within a cone, in whatever direction aimed.
Like spears, this weapon's attack visual can go through tiles, but will not inflict damage unless the player is unobstructed.
1.5.1.0:

Increased velocity from 12 to 13 and use time from 7 to 9.
Decreased damage from 22 to 18.

1.2.11.0: Introduced.
Aquaite

Aquaite •
Aquaite Bar •
Hydro Pickaxe •
Hydro Axe •
Hydro Mallet
Pearl Pike •

Illustrious •
Drenched Dirk •
Shark Storm •
Aqua Pelter •
Geyser Staff •
Aquaite Knife •
Cleansing Water Pouch •
Aquaite Scythe •

Iridescent Staff •
Aquamarine Wineglass •
Scuba Curva •
Chrono Ocarina
Tide Hunter armor •
Depth Diver armor
Weapons (List):


Melee weapons •

Ranged weapons •
Magic weapons  •
Summon weapons •
Thrown weapons •

Radiant weapons •

Symphonic weapons •

True Damage weapons