The Thorium Mod adds 10 new variants of Grappling Hooks.
Types
Pre-Hardmode
Item
Source
Reach (tiles)
Velocity
Hooks
Latching
Sell
Rarity
Notes
Opal Hook
Crafted: 15
21.875
10.75
1
Single
4000*40 
Onyx Hook
Crafted: 15
23.75
11.25
1
Single
4000*40 
Spring Hook
Scarlet Chests
17
12
1
Single
20000*2 

Does not latch onto blocks.
Propels player in the opposite direction of the hook upon contact with blocks.

Jeweller's Wall Grip
Crafted: All 6 vanilla Gem Hooks
28.125
13
2
Simultaneous
10000*1 
Hardmode
Trivia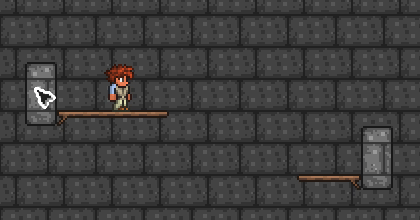 Ammutseba's Sash is a reference to the Cthulhu Mythos creature of the same name. Its design and star it grapples onto are derived from the creature's long, grasping tentacles it uses to consume stars with.
History
Tools:
Usual Tools •
Summoning Tools •
Summoner Tools •
Thrower Tools •
Healer Tools •
Other Tools