Ice Cube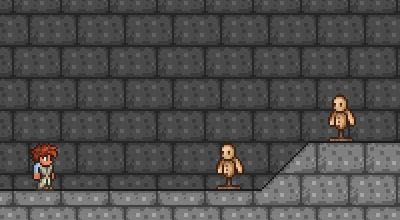 The Ice Cube is an early Pre-Hardmode magic weapon that can be crafted from Icy Shards. It launches a super-cold block of ice that will pierce enemies and inflict them with the Frostburn debuff for 2 seconds. If it hits a solid block, it will attempt to keep its momentum and slide along the ground.
Its best modifier is Mythical.
Crafting
[
]
Recipe
[
]
Notes
[
]
The block is not affected by gravity.
It can only pierce 1 enemy, meaning a total of 2 enemies can be damaged per cast.
The speed at which the block slides is affected by the angle at which it hits the ground. Shallow angles will cause the block to keep most of its original speed, while steeper angles will cause it to slide much more slowly.

Due to this, it can be advantageous to cause the block to slide slowly, as it will allow the block to hit an enemy twice.
History
[
]
Icy Shard

 

Icy Shard • Icy Pickaxe • Icy Axe
Frost Fire Katana • Ice Lance • Cold Front • The Snowball • Icy Tomahawk • Frost Fury • Ice Cube • Flurry • Ice Shaver • Icy Piccolo
Nitrogen Vial
Armor • Icy Arrow • Deep Freeze Coating • Frost-Heart Elixir
Weapons (List):


Melee weapons •

Ranged weapons •
Magic weapons  •
Summon weapons •
Thrown weapons •
Radiant weapons •

Symphonic weapons •

True Damage weapons