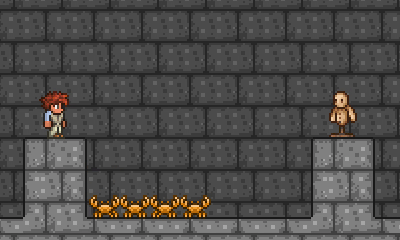 The Spark Taser is a craftable, non-consumable Hardmode throwing weapon that can autofire. It throws red energy knives that ignore gravity, pierce multiple enemies and rapidly shoot beams at nearby enemies. Each energy knife can shoot beams up to a maximum of six times.
Like most non-consumable throwing weapons, using this weapon builds up an exhaustion meter that appears below the player. Not using the weapon will make the meter slowly go back down. However, if it becomes completely filled, the user will be inflicted with the Exhaustion debuff, causing all non-consumable throwing weapons to deal massively decreased damage for some time. The meter resets after the debuff ends.
Its best modifier is Unreal.
Crafting
[
]
Recipe
[
]
Notes
[
]
While the electricity daggers have low knockback, their ability to damage enemies rapidly allows them to stun-lock small groups.

The beams are also incredibly accurate, making them good for fast enemies.
History
[
]
Strange Plating

 

Strange Plating • Plate Slab • Plate Wall • Plate Platform • Plate furniture
Prime's Fury • Eye of the Destroyer • Destroyer's Rage • Twin's Ire • Spark Taser • Barrier Generator • Prime's Roar
Blackhole Cannon • Life Surge Staff • Life Essence Apparatus • Pocket Guardian • Midnight Bass Booster
Cyber Punk armor • Tether Dart

Climber's Ice Axe • Golden Locks • Little Red • Wondrous Wand • Snow White • Bass Booster • Hadron Collider • Energy Catalyst • Air Strike Shield
Weapons (List):


Melee weapons •

Ranged weapons •
Magic weapons  •
Summon weapons •
Thrown weapons •
Radiant weapons •

Symphonic weapons •

True Damage weapons