Writhing Sheath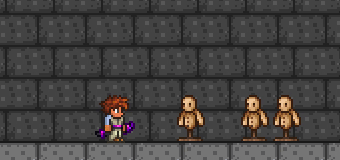 The Writhing Sheath is a craftable Hardmode Sword Sheath accessory. While equipped, the player will receive the Sheath buff every 3 seconds they do not damage any enemy with a sword; the counter for receiving the buff will reset either by changing to a non-sword item or each time an enemy is successfully struck by a sword strike. With the Writhing Sheath, the Sheath buff spawn 5 void blades that quickly fly towards the player's cursor, dealing damage to all enemies in the way. Each void blade deals 100% of the original sword damage dealt and briefly inflicts the Light Curse debuff.
Only one Sword Sheath accessory can be equipped at a time.
Crafting
[
]
Recipe
[
]
History
[
]
1.6.5.4:

Now inherits Leather Sheath's requirement of not hitting enemies to charge Void Blade.
Buffed Void Blade base damage from 75% to 100%.
Updated recipe.

1.6.5.0: Introduced.
Void Heart

 

Void Heart • Blackhole Cannon • Void Lance • Rift Tearer • Whispering Dagger • Writhing Sheath
Armor •
Accessories (
Combat ) •
Vanity (
Dyes )